Preparing for a PR Disaster
You know it's coming. Your company will be undergoing unexpected changes in management or making an announcement that could potentially draw speculation and/or criticism in the media.  The potential is growing for a full-blown PR disaster.
Or – you're dealing with the aftermath of a crisis (and we sympathize with you): a developing security breach, consumer complaint, or employee-related news gone viral.
Chaos around a crisis builds quickly. Be prepared.
As part of a solid crisis management and communications strategy, you should be actively monitoring press and social media for developing stories. You need to act fast and stay well-informed on any commentary around the issue, positive or negative, so you can get a temperature of the public and media reaction to help inform your strategy.

What should you be looking for?
Going beyond raw data in the form of news article or social sharing totals, you should be looking at the content and tone of those messages and how they evolve.
To get a sense of the conversation in social media, consider the following:
WHO is generating the conversation?
Are prominent journalists or other influencers commenting on the story, or is most commentary coming from the general public and possibly less influential voices? What kind of social reach can you expect from those weighing in?
WHAT is the total volume of press coverage and mentions in social?
Using these numbers, you can compare the reach of the story relative to other types of announcements or similar issues to measure the impact of this particular story.
WHEN – Look at the volume of mentions from one period of time to the next.
Is coverage slowing after the first 24 hours, or are you seeing sustained commentary over the course of several days?
WHERE is most of the conversation stemming from?
Get an idea of social sharing data for an exclusive, source article, or a key story from a top news outlet. How much traction is a major narrative getting in social media?
HOW is your announcement or issue being received?
Are you seeing a lot of original commentary in social media, indicating a stronger reaction to the story, or does the majority of coverage on Twitter consist of Retweets linking to a news article – possibly suggesting a more neutral response?
Answering these questions will help you get a better idea of the major themes and takeaways in coverage.
How to build your crisis monitoring platform
By way of example we'll use the company Theranos to setup our model.
1.  Start with a batch of basic keyword searches in Google and Twitter that includes:
Company name, including any variations as separate searches (Theranos, Theranos Inc.)
Names of major executives and their Twitter handles, if applicable (Elizabeth Holmes, @eholmes2003, Sunny Balwani)
Names of any employees or spokespeople that may be mentioned, products involved, or other keywords that can help narrow down searches. (Theranos spokeswoman Brooke Buchanan, Centers for Medicare and Medicaid Services, CMS, Edison, Walgreens)
Stock symbol, if applicable
To ensure that you're seeing any and all results, make sure these are basic Google Web searches starting at google.com – before clicking on News results.
There are a number of blogs that will not be indexed in Google News, so we recommend a comprehensive Web search to ensure you're covered.
* Keep in mind – sometimes these very basic searches will yield mind-numbingly comprehensive results, and you'll be left wading through a ton of information – but, if you want to keep a careful eye on any and all commentary, you'll need to make sure your primary searches remain as basic as possible.
A few tips:
Try keeping your search to last name only as long as it's not something too common (Smith, Brown, etc.) People will sometimes be referenced by their last name only, particularly in social media.   In this case you'd probably fine with a search for "Balwani" but want to keep the full name for "Elizabeth Holmes"
You may also want to add variations of first name + last name. Double check to see if Elizabeth is sometimes referred to as "Beth" or "Liz" and test for different variations.
Keep these basic keyword searches separate, rather than trying to build a more advanced search combining several keywords, which may inadvertently filter out important results.
2. Search for relevant journalists
Start this search by accessing their archive on a news website and/or on Twitter, including those that may have contacted you for comment, and those known to weigh in on similar issues or your company specifically.
As part of regular media monitoring we definitely recommend building out Twitter lists of important people that might be talking about your company.   This should include any journalists that write about your company or industry, the publications they write for, investors, employees, executives, influencers, and any others that actively discuss your brand (either positive or negative).
3. Refine your basic keyword searches for more targeted results, creating new Google and Twitter searches based on:
Keywords used in news headlines, which may dictate how people are referencing the issue in social media
Commentary you're seeing in social – which people/products/projects are people referencing and what specific names or terms are they using that you can search for?
Any hashtags that may be created around the issue
New developments in coverage and any new people or issues mentioned
Make your searches more specific by adding the names of key people or issues. So, for example:
Company name + key people involved (Theranos) ("Elizabeth Holmes" | "Sunny Balwani")
Company name + another company involved (Theranos AND Walgreens)
Company or executive name + keywords related to the issue (i.e. hire, funding, earnings, lawsuit/suit/court/legal, layoffs, etc.) (Theranos) (regulators | ban | banning)
4. When you find a major news article, open a new tab to search for that URL in Twitter
This will pull up any Tweets that link to that article – even if the URL is shortened using bit.ly or another service.
This is especially valuable for locating Tweets that may not specifically mention the company name or other keywords you're looking for.
In many cases, you'll find most people linking to a single source article or exclusive, or maybe a few articles covering, with less conversation around later coverage. With insight on the specific article or information that's generating conversation, you can contact the journalist to correct any inaccuracies or offer an official response.
The Wall Street Journal has been the publication that has led the investigation into Theranos so we plugged this article into the Twitter search field – http://www.wsj.com/articles/regulators-propose-banning-theranos-founder-elizabeth-holmes-for-at-least-two-years-1460570869.

This will bring up results that look like this: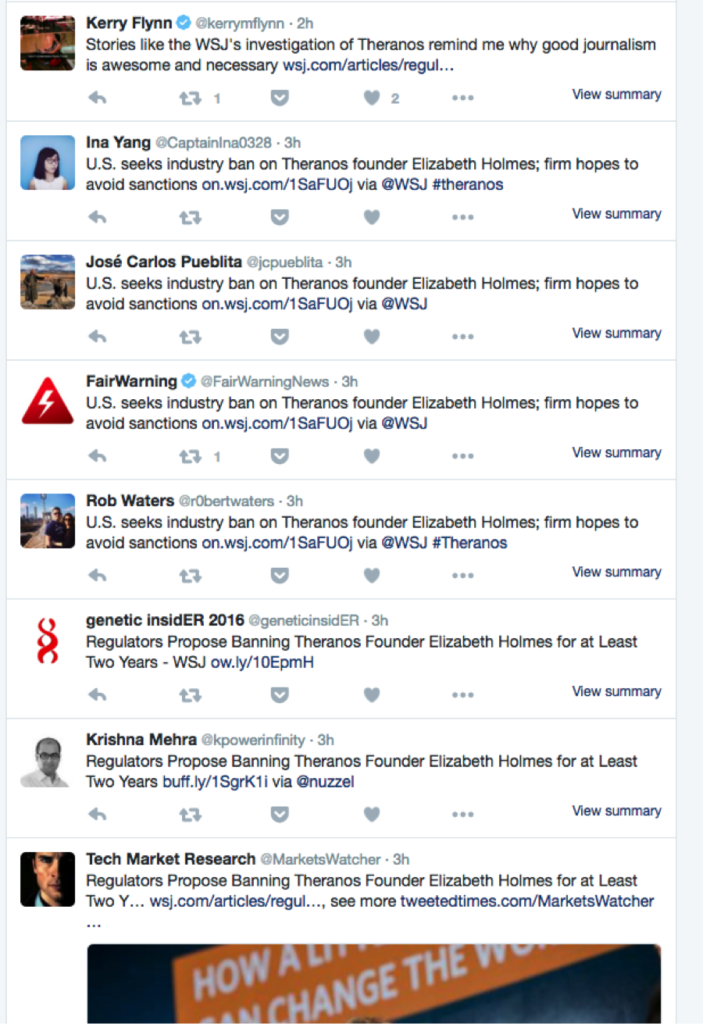 Depending on the scale of conversation around your PR crisis, you will want to scan through for commentary from people that are very influential.   Though not exhaustive, it's definitely worth checking tweets from all verified accounts (the ones with a white check mark over blue background

) and any others that appear to add commentary in addition to sharing the link.
5. Check the article URL using Buzzsumo to get an idea of social sharing
Grab the Buzzsumo Chrome Extension and sign up for a free account.   When you're on the page of your source article, just click the icon

to pull up social sharing data.  This will give you more context on where conversations are happening and the scope of the sharing.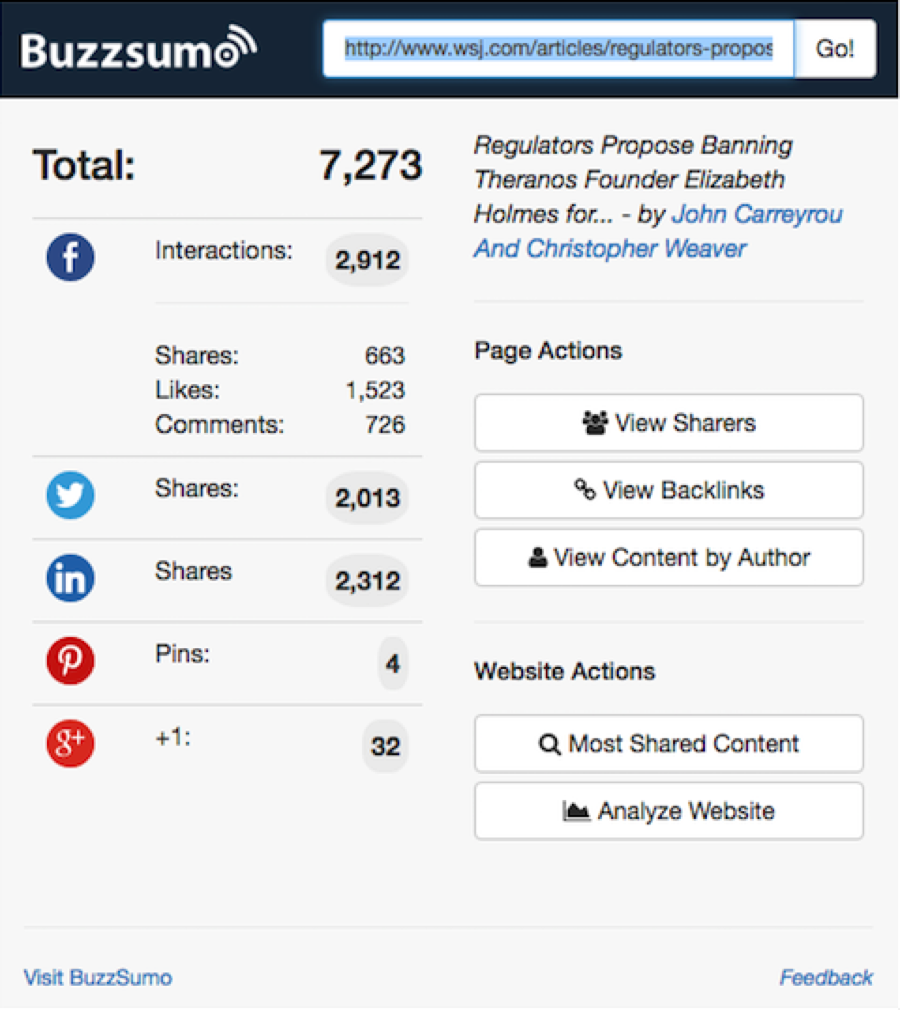 Keeping it all organized
This process is messy. There are a lot of sources that need to be watched all at the same time. Twitter alone could account for a dozen or more separate searches (a few different keyword combinations and one search for each of the article URLs that are actively being shared).
One way to see everything in one place is with a service like TweetDeck.
Tips:
Sometimes an issue or announcement will generate conversation that may be valuable to track. Conversation threads in Twitter will be created when a user replies to another using their Twitter handle, and may include multiple users.
Portions of a conversation may not specifically mention the company or issue you're tracking, so to make sure you're seeing any related commentary, you may want to click on any conversations indicated in your search results to review.
TweetDeck will display a little conversation bubble in the bottom left corner of any Tweets that are made in response to another user or as part of an existing conversation.
These will be trickier to spot with a more condensed format. Keep the Column width in TweetDeck settings to Medium in order to see the View link.

With a dedicated Twitter search, you'll see an obvious "View Conversation" link that you can view without leaving the page.

Build out your searches with other search engines and social sites
Bing
Bing News will sometimes include a few different outlets and websites than you would find featured in a Google News search.
Google Web will still yield more comprehensive results, likely including all of the same results you would find in Bing News search. But if you're looking for more targeted results with News searches only – or to build in some duplication with Bing as a backup for Google Web – Bing can be a strong resource.
Facebook
In the past, Facebook's search function was largely ineffective given the number of private accounts, making it difficult to find comments using a keyword search or related to a news story. However, Facebook recently introduced a feature allowing any public posts to be searchable, making it easier to see comments on a particular story.
We've found it most helpful using Facebook to search for a specific article related to your story – or to see if a particular journalist or influencer is commenting about the story on their profile or page.
Make sure to check the number of comments on the posts you find.   Oftentimes posts from key publications or prominent journalists will have a significant conversation in the comments.
IFTTT + Gmail or Slack
Create an IFTTT recipe to send a Google RSS alert or Twitter search results to your email or Slack channel, alerting you to any updates when you're not closely monitoring Twitter or TweetDeck, and allowing you to collaborate and share with colleagues.
Putting it all together
When it comes time to share all of this information we use our Report Mule web app to quickly gather all of the online clips in one place (You can check out a Theranos sample here). If you want to gather key tweets and Facebook posts we've found that having a private WordPress blog setup is the best way to go.   You can create a blog post and then grab the Embed codes for each social interaction you want to share with colleagues and copy them to post.   An example of a social media highlights post is here.
For more research and monitoring goodness including best practices for advanced searches, social media tracking, and tips on our favorite tools to optimize your workflow – join our email list.
We tried to make this guide easy to follow – but if you want some professional help setting up your monitoring platform we offer consulting services as well as ongoing monitoring solutions.