Infobesity – n. the condition of continually consuming large amounts of information, especially when  this has a negative effect on a person's well-being and ability to concentrate – Macmillan dictionary
I love to read news. I love to read news so much that I started a business just so I could read news all day and tell people what's important. While not everyone needs their own personal news curator, you can cut down on the noise and clutter by letting other people act as your first filter. There are a lot of different curators out there, but these are my favorites.
The Top 5 Infobesity Fighters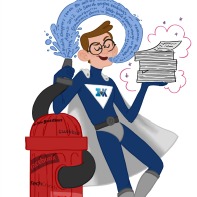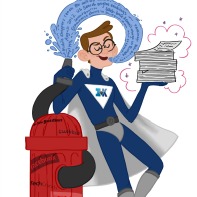 The Skimm – This daily e-mail newsletter, a favorite of media executives and celebrities, doesn't just throw a bunch of links at you. For each story they cover, they provide a concise but informative summary that not only tells you the news, but puts it into context so that you can quickly gain a more complete understanding of the big picture. Twitter: @theskimm
Jason Hirschorn's Redef started with his original daily email sharing links to the best of media, tech, and culture news. They've since expanded, offering up expertly curated daily newsletters featuring the can't-miss topics of the day in verticals like media, fashion, sports, music and tech. Twitter: @MediaREDEF
Next Draft – I love that he signs the bottom of each letter with 'Dave Pell, Managing Editor, Internet.' This often funny collection of daily stories is a great mix of the must-know along with more offbeat but still fascinating news of the day. Twitter: @davepell
The Week– This is an excellent magazine that tries to present multiple political viewpoints on different issues so that you can not only stay current on news but also understand different arguments on important topics. Their '10 things you need to know today' newsletter helps to keep you aware of headlines during the week before you do a deeper dive into the latest issue of the magazine, which usually shows up just in time for the weekend. Twitter: @TheWeek
Your Twitter Feed via Nuzzel – (h/t to Gary Vaynerchuk for introducing me to this one). Twitter is a great resource for breaking news, but its fast-moving, real-time nature means that it's almost impossible to keep up with everything shared by your network. Nuzzel hooks into your Twitter timeline and monitors for the stories that are shared most often, curating these conversations in an easy-to-follow feed that can be viewed in the mobile app or as a daily email newsletter. Simple, smart, and well-executed. @nuzzel
That's my list. What are your tricks for fighting off infobesity? Let me know in the comments!